My family recently buried the most beautiful, confident, and gracious woman I have ever known — my dear grandmother. She is my hero and role model, and I pray to have even a portion of the grace and honor and loving influence that she possessed. But, I know a little secret about her that the average friend in her sewing club, the neighbor who received her Morning Glory Muffins, and the visiting revival pastor might not have ever guessed: she laughed at the future.
My grandmother had known and tasted first hand the Valley of the Shadow. She knew God, and she knew grief. She knew that He was faithful and that His love and grace was enough.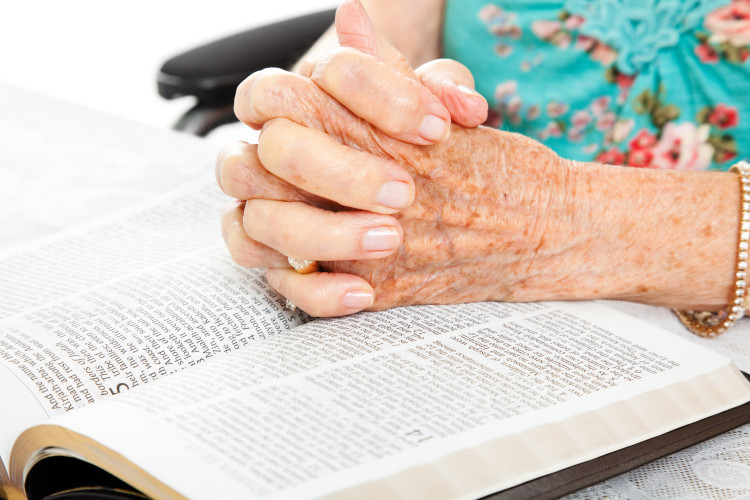 Friends knew that my grandmother was a true southern lady in every sense of the word; she dressed beautifully, carried herself with such grace and honor, and made those pearls and bangle bracelets lovely. She faithfully tended to her quintessential 1920's southern Mississippi home, and she was organized, efficient, and busy. And she was hands down the best cook I've ever known (and, y'all, I'm from Mississippi — I know food.).
But my sweet and lovely grandmother was also fearless. She was a rugged, strong, and tested warrior of the faith. I remember telling my grandmother one time that I was worried about something, and she told me, "I don't worry. If you worry and it never happens, then you worried needlessly. If you worry and it does happen, then you have to deal with it twice."
This advice comes from a woman who received news at the age of 18 that she had just lost her brother, an officer in the United States Army, fighting in 1944 Europe. This young woman married, bore two children, and then lost her father when she was 27 years old. A short two years later this beautiful woman lost her husband in an airplane crash when my dad was 5 months old. God blessed her with another godly husband three years later, as well as two more children. As time went on, my Mamaw Jane lost her hearing. She lost her mother. She lost her sister. She lost grandchildren.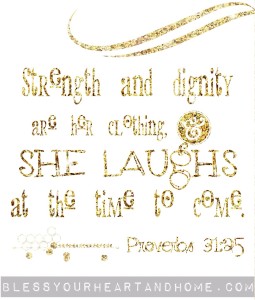 And yet, in all this, my beautiful grandmother was the most faithful, gracious, kindhearted, and cheerful person I have ever known. She smiled at the future. She LAUGHED at the future, because her hope was in God. She was a daughter of the Old Testament Sarah, a daughter NOT AMAZED at the path which her God had called her to walk. She was like the holy women of old who adorned themselves with a beauty that is very visible, although unattainable by merely dressing and adorning the body — rather, her beauty was the FEAR OF GOD radiating assured and fervent hope in her Redeemer and Savior.
Just as Sarah (Abraham's wife) was physically a very beautiful woman, even to be noticed by kings, my grandmother, too, was very lovely. (Case in point: In a 1940's era Progressive Farmer publication she appeared in a photograph driving a tractor; as a result, she received multiple marriage proposals through the United States Postal Service.)
But, just like that beautiful Sarah of old, my grandmother's beauty was not an outward mask — she grew into a more and more beautiful woman, for she hoped in God.
The secret to becoming a woman who laughs at the future is to become a woman who trusts God without fear.
Fear cripples and smothers a woman's ability to laugh at the future, for, instead, she fears everything else but God.
We are told that Sarah of old "judged Him faithful who had promised," and "God is not ashamed to be called [her] God" (Hebrews 11:11, 16). In fact, Sarah named her only son "laughter." For, although she laughed at the thought of bearing a child at the age of 90, God was indeed faithful to her, and He did turn her laughter into one of joy and hope fulfilled.
My grandmother's secret to laughing at the future was to trust in the Lord. She judged God faithful, and she knew that He would not disappoint. She was right. Her heavenly Father never left her, He never forsook her, and He has been faithful to His promise to bring her from this earth of pain and death and receive her into the very presence of her Lord.
She laughed and smiled with confidence at the future, and God is not ashamed to be called her God.
I love you so much, Mamaw Jane.