Well, Mr. Right is taking his time. You're a single Christian gal. You're busy serving the Lord, waiting on God while you tend to the work and life with which He has blessed you. You'd like to get married, and, like most young women, you dream of marrying your best friend, loving him the rest of your days, and sharing a family, life, love, children, and the happiest and saddest of days with the man of your dreams.
And there's this guy. He's single, a Christian, godly, and wise. He looks like Mr. Potential — and you like him. But maybe he's shy, and maybe it looks like he might be very s.l.o.w. to ever make that first move.
What's a Christian girl to do?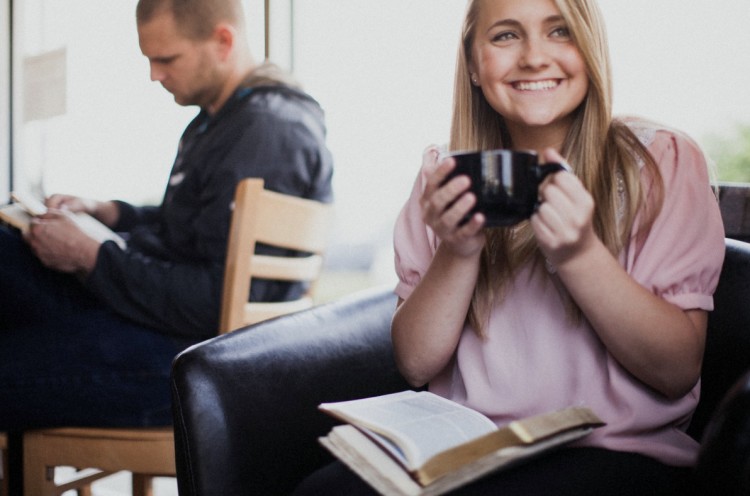 I married my dear husband when I was 22. I didn't marry straight out of high school, but I also wasn't knocking on 30 or 40. The waiting and uncertainty during this time in your life is hard, and my heart is tender towards the place where you are. I cheer you on as you seek God in this very important area of life.
My encouragement for your heart, dear sister, as you wait and wonder —
1. Trust the Lord. Wait on the Lord. PRAY. Pray. PRAY. Ask God for a spouse. Tell Him your desires, and ask Him what to do. Seek counsel, but seek your Father's counsel most of all. People are quick to give you their opinions based on a man-made perfect love story scenario, and that scenario may or may not be God's will for your life. Be quiet and still and spend time fasting and praying before God.
2. I want you to know that this dream is good and honorable and God-given, inspired by an understanding of God's design of marriage. Your desires are good. May God bless you for pursuing the things above more than the cute, shy fella you're stalking on Facebook. Check out Hebrews 13:4.
3. Caution: don't be the Ecclesiastes 7 woman about whom Solomon has warned your young man. Solomon tells Mr. Potential that he's discovered that the woman whose heart is snares and nets and whose hands are chains is more bitter than death. He warns him that a sinner will be captured by this kind of woman. As I encourage you about what you do want to do, I bring you to this example to warn you what you do not want to do: do not be a stealthy, manipulative, conniving woman who does not wait on and trust God, and from whom a godly man will escape. (Ecclesiastes 7:26)
Instead, be the 1 Corinthians 7 gal who is concerned about the things of the Lord, pursuing what is pleasing to the Lord by being holy both inside and out (spirit and body) (1 Corinthians 7:34).
Which leads me to a fourth point…
4. Christian sister, don't forget that purity and holiness are not out of fashion with God. They are out of fashion with the world, your college friends, and maybe your family, but holiness is important to God. 1 Corinthians 6 reminds you that if you are God's, then your body is a temple of the Holy Spirit within you and that you are not your own. You have been bought with a price. So, glorify God with your body.
(If you have sinned and have not been holy both in body and spirit, then confess it to God, repent and turn from your sin, and seek His help to serve Him. Praise God for the blood of Jesus that covers all our sin.)
Okay, rubber meets the road. Above I challenge your heart. Now, where will that lead you? What do you do about that shy, cute, godly, sweet, I-hope-he-might-like-me-since-I-know-we-could-be-sensational-together fella? Although each situation is different and I surely believe that godly and wise young women will have occasion to take different courses of action (check out Ruth's pursuit of Boaz, for example. mind = blown), my sisterly advice and opinion is:
1. Ask God to turn the heart of Mr. Potential towards you. My husband prayed that God would give me a love for him long before I knew he had ever glanced my way. I've been head over heels for almost a decade now, so it was definitely a prayer that God answered.
2. It may not feel this way, but time really is on your side. As you wait for that starry, romantic moment to burst forth, waiting and observing is good. You may look back one day on this moment and just shake your head, thanking God that He knew that Mr. Potential wasn't your Mr. Potential after all. Our problem is usually that we run ahead of God and try to go arrange a lot of things to "help" God get it all together. Waiting, in this instance, is usually a good thing.
3. Another thing to pray is that God would make Mr. Potential bold and obedient to God if God is leading him to pursue a relationship with you beyond just friendship. I want to see that guy stick his neck out for you, girlfriend. Watch God make him a bold, determined young man once he is convinced that God is leading him your way. I promise you, you'll love him for it more than you ever thought you could.
4. Just don't do it. Okay, point 4 is part cultural, part Amanda's opinion, and I believe there is Biblical example for it, too, but don't be the pursuer. Make him do it. If he's already a good friend of yours and you need or want to call him, that's great. Give him a ring. Message him on Facebook. But you know when you're crossing that line and are going that extra mile since you've got that insane crush on him. You know when you just "know better." So, my friend, back off and don't try to manipulate the guy — or God.
My sister, HE. IS. ABLE. God is able and willing to bless and help and guide. He doesn't need your help, and He really means it when He says that He "is able to do far more abundantly beyond all that we ask or think," and He will do a work in your life that is worthy to bring praise to His name (Ephesians 3:20). Your future may or may not include Mr. Heart-Throb-Potential, but remember what Paul says in 1 Corinthians 2:9 about God's plans for those who love Him:
"Things which eye has not seen and ear has not heard, and which have not entered the heart of man, all that God has prepared for those who love Him." You have a bright future, and so do I.
Hang in there, girl. I'm praying for you today.
<3, amanda
This article is part of a series from Bless Your Heart and Home on "Finding Mr. Right." If you receive encouragement here, we invite you to read our series intro, and parts two, three a & b, and four. ♥, amanda
Suggested reading and resources for your ♥
♥ Passion and Purity, by Elizabeth Elliot (my absolute favorite book when I was a single woman)
♥ Quest for Love, antiquated (and biblical) advice and teaching from Elizabeth Elliot for single women.
♥ Lies Young Women Believe, solid truth from the beloved Nancy Leigh Demoss.
♥ Love and Respect, a biblical book on marriage, changed the course of my relationship and communication with my husband. I wish I would have read it sooner than I did.
♥ Confessions of a Boy-Crazy Girl, by Paula Hendricks.
♥ Did I Kiss Marriage Goodbye? Trusting God with a hope deferred, by Carolyn McCulley
Bless Your Heart and Home is a participant in the Amazon Services LLC Associates Program, an affiliate advertising program designed to provide a means for sites to earn advertising fees by advertising and linking to Amazon.com
---
Next post in this series on Finding Mr. Right:
Honoring God in the Dating Relationship