I am diving in to a short series for you young, single Christian women on finding Mr. Right. I just LOVE y'all, and my heart and mind are bursting to write quite a few things to you. This upcoming series will be four parts:
Part One .. Waiting for Mr. Right….when he's taking his time.
Part Two .. Honoring God in the Dating Relationship.
Part Three .. Have I Found Mr. Right? (parts one & two)
Part Four .. Becoming Mrs. Right.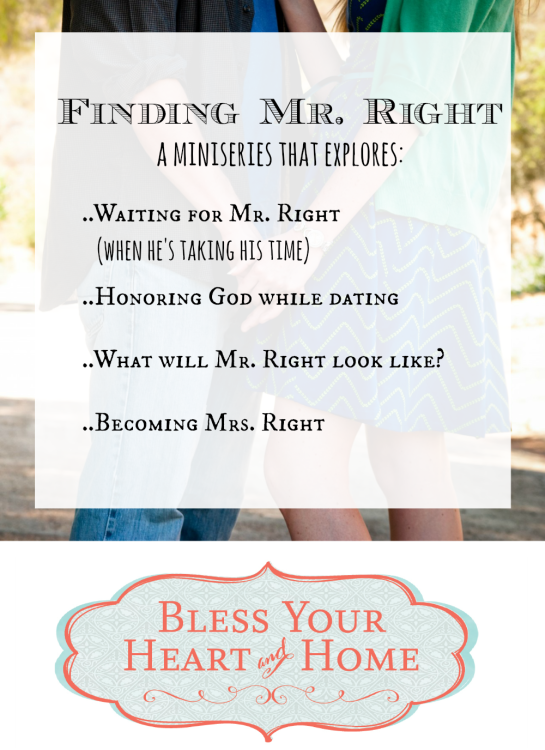 Today's introduction to the series is the "prequel" to everything else I want to say to you regarding finding Mr. Right. Today is foundation and doctrine, and it is so important that everything else I want to say will pale in comparison. Give me your attention for just a minute before we get to the ins and outs of guys and dating and love?
First things first, girls: Christ Jesus died for you. God gave His one and only Son to be sacrificed for you. Jesus was punished for your sins. He died on the cross in your place.
God loves you. He offers you forgiveness from your sins, and through Jesus Christ you can have peace with God. Receive His gift and trust in Jesus for the forgiveness of your sins and for eternal life in Him.
And what does this have to do with guys and dating, love and romance?
1. Going about love and romance the "right" way does not make you "right" with God. The cleansing blood of Jesus does that.
2. Your worth is not wrapped up in who you are dating or whether or not you are dating someone. Your worth is not dependent upon your success in past, present, and future relationships. Your worth is totally and completely about God's having bought you with the blood of His only begotten Son.
3. Christian dating is not a list of rules or do's and don'ts. Finding Mr. Right is like anything else you do as a Christian — it stems from your relationship with Christ.
4. You don't honor God in your dating relationships in your own strength, grit, willpower, boundaries, or determination. You glorify and honor Him by the Spirit of God (who lives within you if you are owned by God) working within you and helping and strengthening you.
I'll meet you back here soon with the first post in our series. …
Until then, receive and give thanks for the gift of God's Son, Jesus Christ.
"For God so loved the world, that He gave His only begotten Son, that whoever believes in Him shall not perish, but have eternal life," John 3:16.
<3, amanda
Next post in this series on Finding Mr. Right:
Mr. Right is Taking His Time (What's a single Christian Woman to Do??)
Resources and Links
..What books, scripture passages, or speakers have most helped and encouraged you in this area of dating and relationships?
My favorite book on dating and relationships is Passion and Purity: Learning to Bring Your Love Life Under Christ's Control
, by Elisabeth Elliot (an affiliate link to Elisabeth Elliot's book at amazon.com). I read it multiple times before I met and married my husband.
..I've created a list of resources for the single Christian woman at Bless Your Heart and Home's Amazon Store. What favorites would you add??
(Bless Your Heart and Home is a participant in the Amazon Services LLC Associates Program, an affiliate advertising program designed to provide a means for sites to earn advertising fees by advertising and linking to amazon.com)